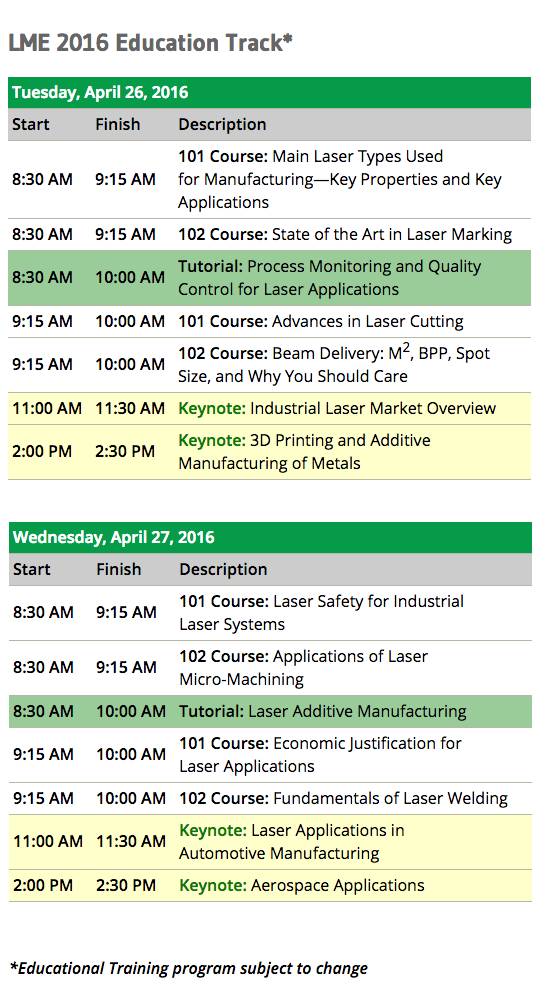 ---
The Lasers for Manufacturing Event®—LME features a variety of keynote presentations, educational opportunities and networking events designed for individuals interested in implementing laser technology into their manufacturing processes. Attended by COOs, project managers, purchasing agents, automotive specialists and more, LME has become the go-to place to see the latest in laser technology.
LME is April 26, 2016, from 10:00 a.m. to 5:00 p.m., and April 27, 2016, from 10:00 a.m. to 4:00 p.m. Educational sessions will cover a variety of topics, including:
Types of lasers used in a manufacturing setting

Laser safety for individuals working with industrial systems.

An overview of the industrial laser market.

Laser applications in automotive and aerospace manufacturing.
Read More
Topics: LIA Membership, Laser Institute of America, Laser Applications, LIA Conference, LAM, Laser Conference in Atlanta