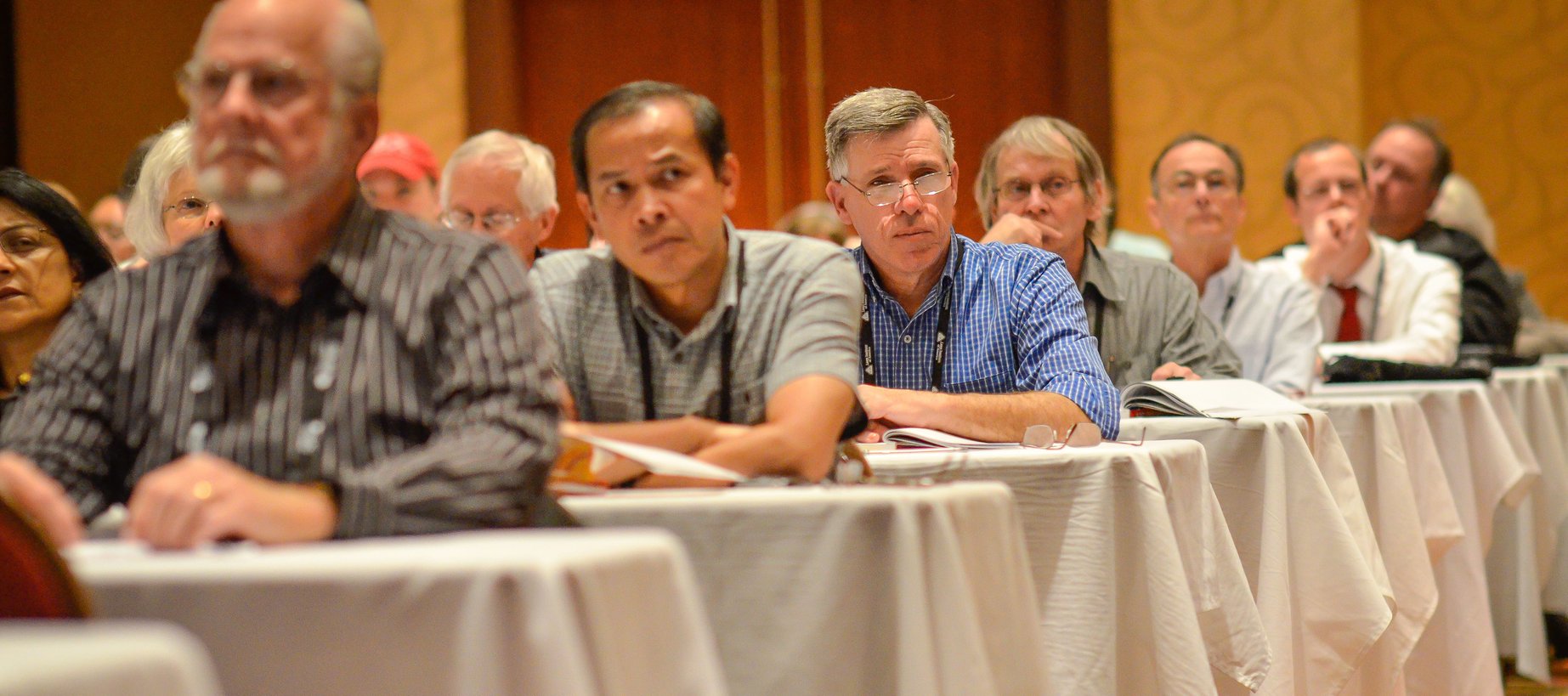 The Lasers for Manufacturing Event® was created to provide company leaders a place where they can discover how integrating laser technology into their processes can increase not only their efficiency but profit as well. While attending LME, you will discover the latest developments in 3D printing, additive manufacturing and other industrial laser applications, including those in the automotive and aerospace industries.
To help you prepare for LME, we've created a comprehensive guide of everything the event has to offer:
LME Exhibition
See the latest in laser technology for yourself on the showroom floor of LME. You will have the opportunity to view live demonstrations of laser equipment while networking with laser companies and manufacturers. Be sure to stop by in between other programs and learn more about laser technology, ask questions about implementing lasers in your manufacturing processes and find out how lasers can help your company directly.
Laser Technology Showcase Theater
While on the showroom floor, head over to the Laser Technology Showcase Theater where exhibitors will discuss the advantages of their use of laser technology and present examples of the laser-manufactured parts displayed at their booths.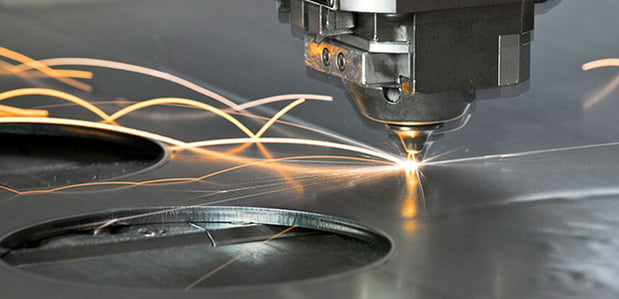 Ask the Expert
Yet another opportunity to gain expert knowledge on the showroom floor, our Ask the Expert series features a panel of experts from various companies that work with industrial lasers, laser processing systems and industrial laser applications. The panel will answer any questions you may have and may even be able to direct you to a specific exhibitor that has a solution to your problem.
Keynotes, Tutorials and Courses
LME is attended by people with varying levels of experience with laser technology. That is why we've developed several educational programs that include everything from entry-level presentations and tutorials to more advanced topics and keynote addresses.
This year's keynote presentations cover the following topics:
An overview of the industrial laser market.

3D printing and additive manufacturing of metals.

Laser applications in automotive manufacturing.

Aerospace applications of laser technology.


Other courses and tutorials will include*:
Main Types of Lasers Used for Manufacturing.

Economic Justification for Laser Applications.

State of the Art in Laser Marking.

Fundamentals of laser welding.

Advances in Laser Cutting.

Beam Delivery.

Laser Safety for Industrial Laser systems.




Applications for Laser Micro-Machining.

Fundamentals of Laser Welding.

*Courses subject to change.
Lasers for Manufacturing Summit
In an effort to help decision-makers discover how laser technology can be used to increase the profitability of their manufacturing processes, the Lasers for Manufacturing Summit was created as a precursor to LME. The Summit focuses entirely on lasers in the manufacturing marketplace, bringing together C-suite and top executives who are searching for first-hand expert intelligence. The industry's leading experts will present their views and analysis of market trends and laser application developments.
Intended for business leaders and key players in the manufacturing industry, attendees include:
Presidents, CEOs and COOs

Chief Technology Officers

R&D Management

Sales and Marketing Executives

Business Development Directors

Managing Directors

Business/Technology Analysts


This year's Lasers for Manufacturing Summit will feature:
Two keynote presentations offering insights into the laser and laser additive manufacturing market, as well as the state of the additive manufacturing industry.

Two presentations covering 3D printing, additive manufacturing and ultrafast lasers.

Laser manufacturing forum moderated by David Belforte and featuring panelists from high-profile companies.

VIP reception where attendees will network with high-level executives, speakers and some of LIA's board members.

What Your Peers Are Saying
"It's a good opportunity for everybody to learn about all the technologies in the same place. I'm not very knowledgeable about laser processes. Today I had the opportunity to learn all the basics." —Octavio Islas, Product Engineer at Magna/Cosma
"We're getting a lot of great information from the tutorials, like insights into welding techniques. There are very knowledgeable individuals here who are very open with ideas and answering questions." —Thom Shelow, Presdent/CEO of Superior Joining Technologies, Inc.
"I like the idea of the classes. We're kind of new at looking at applications for lasers in the medical field. I'm trying to learn the differences between different types of lasers, the wattage you need. I definitely like the presentations." —Anne Kitchel, Technical Specialist at Baxter Healthcare
"I have gotten business out of LME that I probably would not otherwise have gotten. LIA makes things very easy as far as customer access. This is a very intimate conference—that is one of its benefits." —Ron Schaeffer, CEO of PhotoMachining
"We're trying to better understand the processes and see if we can expand on our capabilities. We've got a good start, talking with vendors and learning a lot really fast." —Alex Uspenski, Engineering Manager at U.S. Edoscopy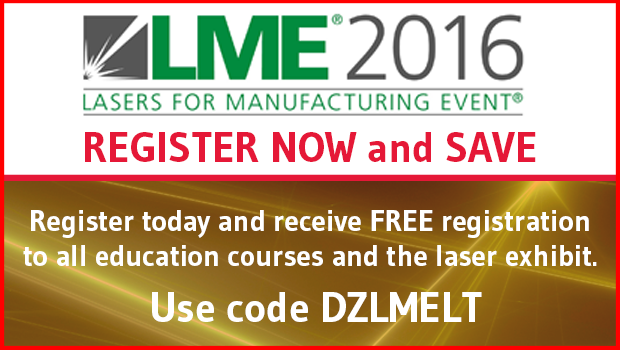 Event Details and Accommodations
The Lasers for Manufacturing Event® begins April 26, 2016, from 10 a.m. to 5 p.m. and April 27 from 10 a.m. to 4 p.m.. LME is at the Cobb Galleria Centre in Atlanta, Georgia.
The Lasers for Manufacturing Summit is on April 25, 2016, from 1 p.m. to 5 p.m. with a VIP reception following from 5 p.m. to 6:30 p.m. The Summit takes place at the Renaissance Atlanta Waverly Hotel in Atlanta, Georgia.
Attendees are encouraged to book accommodations at the Renaissance Atlanta Waverly Hotel, located at 2450 Galleria Parkway, Atlanta, GA 30339. The hotel is connected to the Cobb Galleria Centre by an enclosed promenade, allowing you ease of access to LME programs and functions. With oversized guest rooms, high-speed Internet and a variety of dining options, you will enjoy all the comforts of home while staying on the leading edge of the laser manufacturing industry.
Book your room over the phone at 770-953-4500 and mention LME to receive a discounted rate.
LIA does not endorse or have affiliation with other hotels in the Atlanta area. LIA will not solicit you for hotel books or special discounts. If you are contacted, be advised that the company is not affiliated with LIA and we do not recommend providing them with your personal or credit card information.
LME Registration and Other Information
Register for LME today and take advantage of early-bird pricing that expires on February 25, 2016. You may purchase tickets online, but if you need further assistance, please contact LIA at 1-800-345-2737.
The Laser Institute of America, founded in 1968, is the professional society for laser technology and laser safety. Our mission is to foster lasers, laser applications and laser safety worldwide. Read more about LIA or contact us online for more information.